Vegetable Path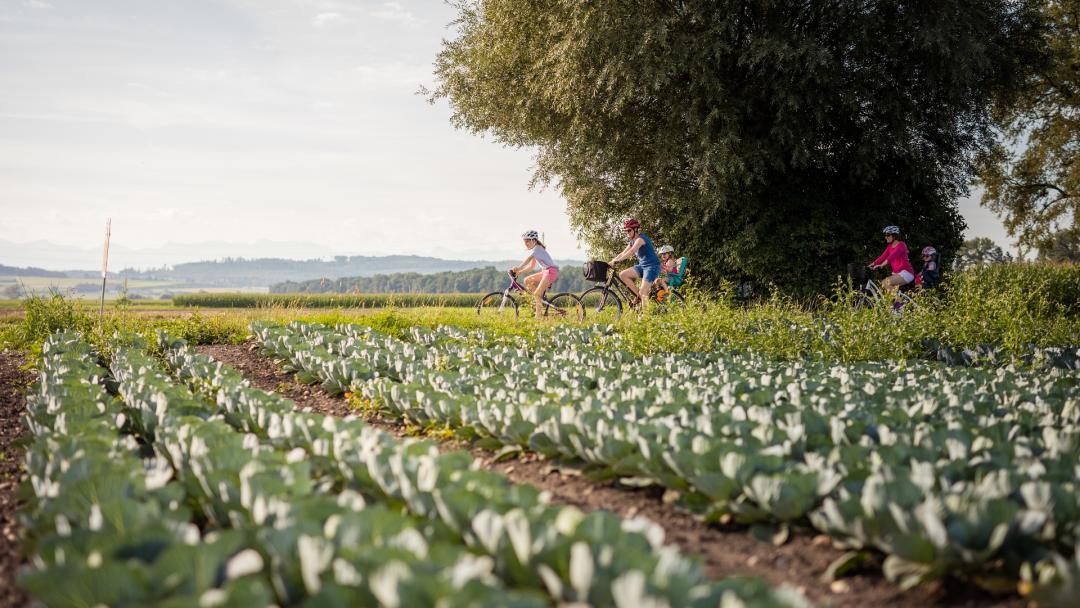 Description
Welcome to the largest vegetable garden in Switzerland. From the beginning of May to mid-October, you can discover over 60 different types of vegetables by bike or on foot along well-signposted, low-traffic corridor paths.
The Vegetable Path is a very safe bike path on which you can feast your eyes on the delicious shades of green of our area. It is also possible to hike along the path.

Two itineraries are proposed: 25 and 45 km. The official start of the market garden path is at the train station of Kerzers. It is not possible to rent bikes at the train station of Kerzers. It is possible to rent bikes at the train stations of Ins and Murten! The circular routes are marked with special signposts (red or green) in both directions from May 1 to October 15. This makes it possible to avoid confusion with the national cycling route. A short section is the same route for the red and green circuits.

For those who want to experience the vegetable trail on foot, we recommend the shorter, green route. Thanks to the train stations along the route, the walking distance can be chosen at will (Kerzers-Müntschemier: approx. 6 km; Kerzers-Ins: approx. 11 km).
Region Murtensee / Région Lac de Morat
Hauptgasse 27
3280 Murten
+41 (0)26 670 51 12
info@regionmurtensee.ch
http://regionmurtensee.ch
---
Opening hours
From 1 mai 2022 to 15 oct. 2022
---
Useful information
Accessible from early May to the middle of October

Rent a bike
Station Ins Tel. +41 (0)58 327 24 30
Station Murten Tel. +41 (0)58 327 60 90

Company dinners, lunches and aperitif upon reservation:
Company Gross-Glauser
Brüelmattenweg 6
2577 Finsterhennen
Tel. 032 396 27 53
The company is situated on the red itinerary.

Responsible for the vegetable path
Cantonal central for vegetable gardening, Ins (BE), Tel. +41 (32) 312 91 56
Cantonal central for vegetable gardening, Grangeneuve, Tel. +41 (26) 305 58 78